Welcome to
Event Centre Satama
Event Centre Satama is a modern, versatile event centre in the City Port of Kotka, South East Finland. The doors of Event Centre Satama will open in August 2023, welcoming event organisers and visitors from Finland and abroad. Architecturally unique, Event Centre Satama's flexible spaces are suited to a variety of events: concerts, exhibitions, meetings, seminars, trade fairs, business events, private events, sports events, and many more. Together with high-quality event services, the adaptability of the spaces guarantee a successful event from small gatherings to large functions with over 3,000 participants. Event Centre Satama will join the network of venues across South Finland as the first sufficiently capacious and versatile facility in South East Finland.
Event Centre Satama Grand Opening
The Grand Opening of Event Centre Satama is getting closer! Our opening weekend will be filled with lots of exciting events; the program will be updated during the spring.
National Local Heritage Conference
The National Local Heritage Conference is an annual event organised by the Finnish Local Heritage Federation. The event is open to all and promotes the diversity of regional cultures in Finland.
Hyväntuulen messut is a brand new trade fair event focusing on the diverse aspects of welfare. The event is organised by the City of Kotka and it is open to all, introducing a wide selection of tools to boost wellbeing and providing inspiration and insight to all.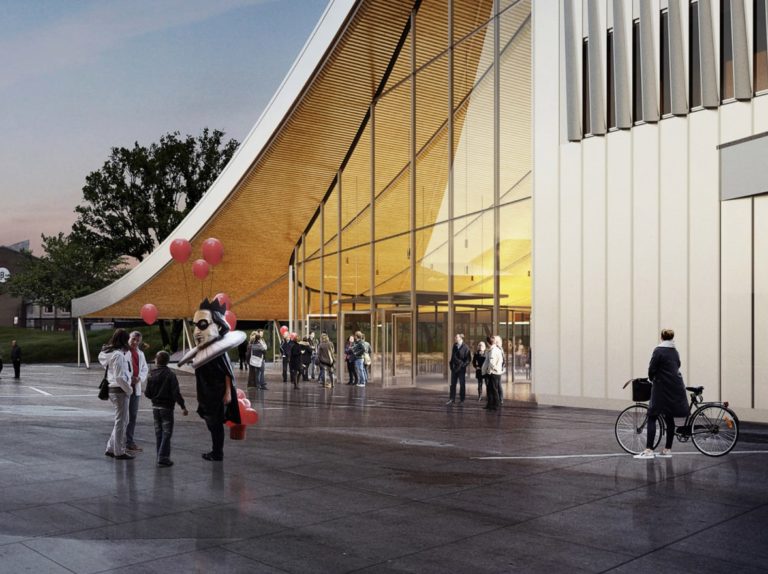 Event Centre Satama's unique architecture is the work of ALA Architects. The zinc-clad wooden building houses a vast multipurpose hall and a large lobby space covered by a sail-like roof structure. The northernmost edge of the elegantly sloping roof reaches down nearly to the ground, almost allowing the visitor to touch its dependable wooden surface. The beautiful lobby space invites visitors in to find shelter from the cold harbour winds.
See the amazing flexibility of Event Centre Satama! The soundproof, moveable partitions allow for many different configurations and simultaneous events. Tailoring its services according to need, Event Centre Satama aspires to provide its customers with unforgettable experiences.